Another part shipment showed up on my doorstep today containing many landing gear retract components.  These parts came from an S-51 builder out of Utah who has pretty much completely redesigned the entire Stewart 51 landing gear retraction system.  The original parts supplied with the kits were pretty inferior.
Included in this parts shipment are the Inner Gear Door (IGD) Uplock assembly sets (L & R / Fore & Aft), IGD Actuators, Main Gear Actuators, P1 Actuator, Downlock Pin & Housing, Aluminum Fork (7006-8), Top Anchor Brackets (LH & RH) and Main Gear Uplock Assemblies .
Stewart 51 – Landing Gear Retract Components
These new parts are made to a very high standard with matching quality. The cylinders are completely machined, unlike the original hydraulic cylinders that were made from welded steel tubing.  All the parts are coated against corrosion in gold anodizing.   
The Actuators
Here is a close up picture of the hydraulic actuators.  The two large actuators are for operation of the main landing gear legs.  The smaller or medium sized actuators are for the operation of the inner landing gear doors.  The small actuator is called a 'P' actuator and is used in the sequencing of the retraction system.  This system is pretty complex because, just like the real P-51, the inner gear doors are normally closed and only open for gear retraction, then close again. The reason for this is because you don't want to impede airflow through the belly scoop to the engine radiator.
There is a great video on the Stewart S-51 landing gear retraction system, featuring these new components.  You can check out the video here. This video was produced before the digital imaging age so the quality is a bit low, but it's still a great video for information about the retract system.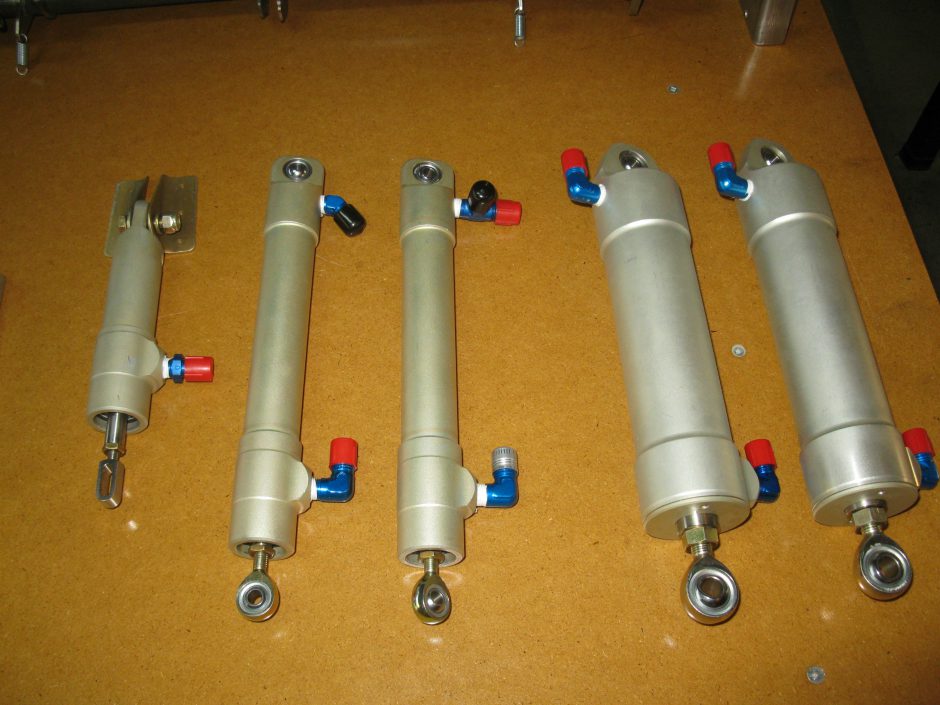 Inner Gear Door Lock Assemblies
This photo is of the inner gear door lock assemblies.  The hook assemblies are mounted in the wheel well area and the lower assemblies are mounted on the inner gear doors.
Main Gear Down Lock
This photo shows the Stewart 51 down lock (Pin and Housing).  This operates the same as the door latch on your house.  This latch is spring loaded and ensures a positive lock when the gear is down.  Aside from hydraulic pressure, this mechanical latch will stay engaged.
Various Machined Fittings
This photos shows some of the Stewart 51 landing gear retract component fittings.  These are all machined out of billet aluminum.  This is just a sample of the beautiful parts that make up the Stewart 51 aircraft, and also a little glimpse into its complexity! Shown in this picture are the Fork (P/N 7006-8), and Anchor Brackets.
The Cost
Here is a breakdown of the individual components and the costs.
IGD Uplock Assembly (L & R / Fore & Aft)  – $500.00
IGD Actuators (Set of 2) – $965.00
Main Gear Actuators (Set of 2) – $1195.00
P1 Actuator – $470.00
Pin – Down Lock (1 only) Heat Treated – $85.00 (only one was remaining, eventually I'll need to have another one made)
Pin Housing – Down Lock (1 only) Heat Treated – $105.00 (going to need another one of these too)
Fork, Aluminum (P/N 7006-8) (Set of 2) – $270.00
Top Anchor Brackets (LH & RH) – $195.00
Main Gear Uplock weldment assemblies (LH & RH) – $500.00
Grand Total: $4,325.00 USD
Please comment, I love to hear from my readers.  Thanks again for coming along for this ride, you make my work worthwhile.